On February 12, 2018, Andrew Taylor and Martin Crutsinger write on Associated Press )AP):
President Donald Trump unveiled a $4.4 trillion budget for next year that heralds an era of $1 trillion-plus federal deficits and — unlike the plan he released last year — never comes close to promising a balanced ledger even after 10 years.
The budget submitted Monday shows the growing deficits despite major cuts for domestic programs, largely because of last year's tax overhaul, which is projected to cause federal tax revenue to drop. This budget does not yet reflect last week's two-year bipartisan $300 billion pact that wholly rejects Trump's plans to slash domestic agencies.
The president's budget proposes dramatic cuts to a wide range of domestic agencies from the Departments of Labor and Interior to the Environmental Protection Agency and the National Science Foundation. Unlike last year's submission, the 2019 Trump plan would cut Medicare by $554 billion over the next 10 years, a 6 percent reduction from projected spending, including cuts in Medicare payments going to hospitals and rehabilitation centers.
Presidential budgets are often declared dead-on-arrival in Congress where lawmakers have their own ideas about spending priorities. But the documents do represent the most detailed elaboration of an administration's priorities.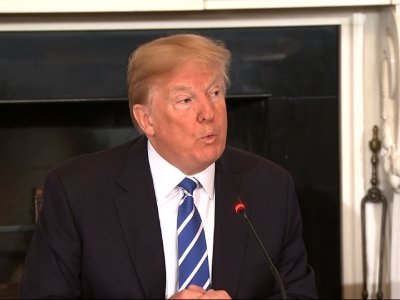 Tax revenue would plummet by $3.7 trillion over the 2018-27 decade relative to last year's "baseline" estimates, the budget projects. Trump is requesting a record $686 billion for the Pentagon, a 13 percent increase from the 2017 budget enacted last May.
In remarks Monday, Trump focused on the spending increases he favors rather than the deficits he and other Republicans have pledged to reduce.
"We're going to have the strongest military we've ever had, by far," Trump said. "In this budget we took care of the military like it's never been taken care of before."
Also getting a boost would be border security. Trump's budget includes money to start building 65 miles of border wall in south Texas as well as money to bring immigration jails up to a capacity of 47,000 and add 2,000 Immigration and Customs Enforcement employees and 750 Border Patrol agents.
The spending spree, along with last year's tax cuts, has the deficit moving sharply higher with Republicans in control of Washington. Trump's plan sees a 2019 deficit of $984 billion, though $1.2 trillion is more plausible after last week's budget pact and $90 billion worth of disaster aid is tacked on. That's more than double the 2019 deficit the administration promised last year.
All told, the new budget sees accumulating deficits of $7.2 trillion over the coming decade; Trump's plan last year projected a 10-year shortfall of $3.2 trillion.
"In one year of working together, we have laid the foundation for a new era of American greatness," Trump said in the budget message accompanying his spending document. "America is back to winning again. A great spirit of optimism continues to sweep across our nation."
The 2019 budget was originally designed to double down on last year's proposals to slash foreign aid, the Environmental Protection Agency, home heating assistance and other nondefense programs funded by Congress each year.
"A lot of presidents' budgets are ignored. But I would expect this one to be completely irrelevant and totally ignored," said Jason Furman, a top economic adviser to President Barack Obama. "In fact, Congress passed a law last week that basically undid the budget before it was even submitted."
In a preview of Monday's release, the White House on Sunday focused on Trump's $1.5 trillion plan for the nation's crumbling infrastructure. He also is asking for a $13 billion increase over two years for opioid prevention, treatment and long-term recovery. A request for $23 billion for border security, including $18 billion for a wall along the U.S.-Mexico border and money for more detention beds for detained immigrants, is part of the budget, too.
Trump would again spare Social Security retirement benefits as he promised during the 2016 campaign, though his plan would reprise last year's attempt to scuttle the "Obamacare" health law and sharply cut back the Medicaid program for the elderly, poor and disabled.
The plan also reprises proposals from last year's Trump budget to curb crop insurance costs, cut student loan subsidies, reduce pension benefits for federal workers and cut food stamps, among other proposals.
Mick Mulvaney, the former tea party congressman who runs the White House budget office, said Sunday that Trump's new budget, if implemented, would tame the deficit over time.
"The budget does bend the trajectory down, it does move us back toward balance. It does get us away from trillion-dollar deficits," Mulvaney said on "Fox News Sunday."
Last year, Trump's budget projected a slight surplus after a decade, but critics said it relied on an enormous accounting gimmick — double counting a 10-year, $2 trillion surge in revenues from the economic benefits of "tax reform." Now that tax reform has passed, the math trick can't be used, and the Trump plan doesn't come close to balancing.
Trump plan also promises 3 percent growth, continuing low inflation, and low interest yields on U.S. Treasury bills despite a flood of new borrowing, underestimates the mounting cost of financing the government's $20 trillion-plus debt. Many economists are likely to find the prospects for such a rosy scenario implausible.
The White House is putting focus this year on Trump's long-overdue plan to boost spending on the nation's crumbling infrastructure. The plan would put up $200 billion in federal money over the next 10 years to leverage $1.5 trillion in infrastructure spending, relying on state and local governments and the private sector to contribute the bulk of the funding.
Critics contend the infrastructure plan will fail to reach its goals without more federal support. Proposals to streamline the permitting process as a way to reduce the cost of projects have already generated opposition from environmental groups.
What we should be doing is financing new capital wealth asset formation which energizes of productive capability to produce quality and environmentally responsible goods, products and services. And at the same time ensure that new capital owners will be created with the goal of making EVERY child, woman, and man a capital owner so  that citizens would become empowered as owners to meet their own consumption needs and government would become more dependent on economically independent citizens, thus reversing current global trends where all citizens will eventually become dependent for their economic well-being on the State and whatever elites control the coercive powers of government, e.g., the police, the law courts, the prisons, the tax system, and so on.
To achieve this goal will require debt financing.
There is good debt and there is bad debt. The debt that is bogging down our economy is bad debt; it is unproductive and essentially redistributive based on future taxpayer promises to pay off the debt. But of course, this an unsustainable position.
It is the exponential disassociation of production and consumption that is the problem in the United States economy, and the reason that ordinary citizens must gain access to productive capital ownership to improve their economic well-being. Using debt mechanisms, namely pure, interest-free capital credit loans to finance the formation of wealth-creating, income-producing capital assets is what is needed, so long as the ownership of future productive capital assets are broadly and individually OWNED, and not allowed to become concentrated, as are capital assets today, among a tiny minority of the citizenry.
Capital acquisition takes place on the logic of self-financing and asset-backed credit for productive uses. People invest in capital ownership on the basis that the investment will pay for itself. The basis for the commitment of loan guarantees is the fact that nobody who knows what he or she is doing buys a physical capital asset or an interest in one unless he or she is first assured, on the basis of the best advice one can get, that the asset in operation will pay for itself within a reasonable period of time — 5 to 7 or, in a worst case scenario, 10 years (given the current depressive state of the economy). And after it pays for itself within a reasonable capital cost recovery period, it is expected to go on producing income indefinitely with proper maintenance and with restoration in the technical sense through research and development.
Still, there is at least a theoretical chance, and sometimes a very real chance, that the investment might not pay for itself, or it might not pay for itself in the projected time period. So, there is a business risk. This is why there needs to be security against default.
In order to ensure widespread, and desirably universal individual ownership participation, capital credit, to be effective, will require commercially-provided loan insurance and re-insurance.
To solve the security issue, the risk can be absorbed by capital credit insurance or commercial risk insurance. Thus, in order to achieve national economic democracy, we need a way to handle risk management in finance by broadly insuring the risks. Such capital credit insurance would substitute for the security demanded by lenders to cover the risk of non-payment, thus enabling the poor and others with few assets (the 99 percenters) to overcome the collateralization barrier that excludes the non-halves from access to productive capital.
One feasible way is to lift ownership-concentrating Federal Reserve System credit barriers and other institutional barriers that have historically separated owners from non-owners and link tax and monetary reforms to the goal of expanded capital ownership. This can be done under the existing legal powers of each of the 12 Federal Reserve regional banks, and will not add to the already unsustainable debt of the Federal Government or raise taxes on ordinary taxpayers. We need to free the system of dependency on Wall Street or the accumulated savings and money power of the rich and super-rich who control Wall Street. The Federal Reserve System has stifled the growth of America's productive capacity through its monetary policy by monetizing public-sector growth and mounting Federal deficits and "Wall Street" bailouts; by favoring speculation over investment; by shortchanging the capital credit needs of entrepreneurs, inventors, farmers, and workers; by increasing the dependency of with usurious consumer credit; and by perpetuating unjust capital credit and ownership barriers between rich Americans and those without savings. The Federal Reserve Bank should be used to provide interest-free capital credit (including only transaction and risk premiums) and monetize each capital formation transaction, determined by the same expertise that determines it today — management and banks — that each transaction is viably feasible so that there is virtually no risk in the Federal Reserve. The first layer of risk would be taken by the commercial credit insurers, backed by a new government corporation, the Capital Diffusion Reinsurance Corporation, through which the loans could be guaranteed. This entity would fulfill the government's responsibility for the health and prosperity of the American economy.
We cannot balance the budget without cutting out coerced taxpayer-dependent redistribution of the earnings of capital workers, which if we did at this juncture would collapse the economy and ruin lives, resulting in social strife, personal suffering and degradation, the erosion of freedom, and ultimately anarchy, which will bring on totalitarian government. While welfare, private charity, boondoggle employment and other redistribution measures are now seen as necessary, they do not have to be sustained indefinitely. There are policies that can be adopted and executed to reverse the ultimate direction of collapse of the American market economy system. These policies are based on the recognition that as the production of products and services changes from labor intensive to capital intensive, the way in which every human being — not just a few, but every person — earns his or her income must change in the same way. At the core of this quiet revolution is the understanding and commitment to broadening the ownership of productive capital.
Starting with the business corporation, a legal entity created and sanctioned by state and federal government and judicial law, the government should provide tax incentives for full-dividend payouts to its stockholders, or alternatively dictate that from now on 100 percent of all profits be paid out fully as dividend payments to stockholders (thus, eliminating the corporate income tax), and be subject to progressive individual taxation rates during the short term. This would effectively prohibit retained earnings financing of new productive capital formation (reinvesting the corporate earnings already earned). The government could also limit debt financing by imposing some ratio formula to annual revenue under which a corporation could debt finance new productive capital formation with borrowed monies. Both retained earnings and debt financing only enhance the ownership holding value of the existing corporate ownership class and do nothing to create new owners. Thus, the rich get richer systematically and capital ownership concentration is furthered, facilitated by financing further productive capital acquisition out of the earnings of existing productive capital.
In place of retained earnings and debt financing, the government should require business corporations to issue and sell full-voting, full-dividend payout stock to more people to underwrite new productive capital formation, with the purpose of providing opportunity for new owners, both employees of corporations and non-employees, to participate in a growing economy. Of course, there needs to be a financial mechanism put in place that will guarantee loan risks; otherwise banks and lending institutions will not make the loans, and the system will continue to limit access to capital acquisition to those who already own capital — the rich. This is because "poor" people have no security or collateral, or sufficient income to pledge against the loan as security, and/or are disqualified on the grounds of either unproven unreliability or proven unreliability.
Criteria must be created to qualify the corporations subject to this policy and those corporations that qualify overseen so as to insure that their executives exercise prudent fiduciary responsibility to generate loan payback. Once the guaranteed loans are paid back, the new capital formation will continue to produce income for existing and future owners.
While tax and investment stimulus incentives are excellent tools to strengthen economic growth, without the requirement that productive capital ownership is broadened simultaneously, the result will continue to further concentrate productive capital ownership among those who already own, and further create dependency on redistribution policies and programs to sustain purchasing power on the part of the 99 percent of the population who are dependent on their labor worker earnings or welfare to sustain their livelihood. By stimulating economic growth tied to broadened productive capital ownership the benefits are two-fold: one is that over time the 99 percenters will be enabled to acquire productive capital assets that are paid for out of the future earnings of the investments and gain greater access to job opportunities that a growth economy generates.
In this way, we can ensure inclusive prosperity, inclusive opportunity, and inclusive economic justice.